India's approximate expenditure on R&D as a percentage of GDP is <1%, to increase the R&D spend, government of India has taken steps to support R&D sector through tax incentives or other schemes
India's approximate expenditure on R&D as a percentage of GDP is <1%, whereas it ranges from 1.6 to 3.5% in countries such as the US, Japan and China.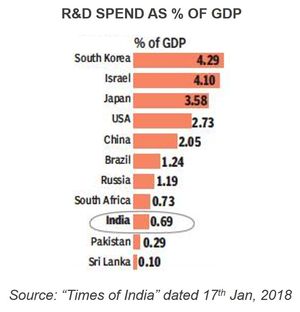 In a recent report, India was ranked 33rd on R&D spend. Globally India is way behind in R&D spend and most of this expenditure is made by government and not by the private sector. A recent study, done by the department of science and technology (DST), shows that the center government's share in the gross R&D expenditure was highest (refer the chart below)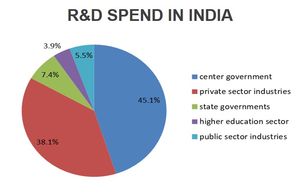 To increase the R&D spend, Government of India (GOI) has taken steps to support R&D sector through tax incentives or other schemes. The Government of India under section 35(2AB) of the Income-tax Act, 1961 (the Act) provides weighted tax deduction to companies whose R&D is approved by Department of Scientific & Industrial Research or DSIR (www.dsir.gov.in).
Sector-wise analyses of the recognized R&D units in India points out that largely the R&D space is captured by companies engaged in the Pharmaceutical and Biotechnology sectors followed by companies engaged in the Electronics & Electrical industry.
BENEFITS AVAILABLE FOR "IN-HOUSE R&D CENTRES" OF COMPANIES ARE:
150% of the total expenditure whether Revenue or Capital in nature – Weighted Deduction in Income Tax till March 2020
As per plan the super-deduction will be reduced to 100% from 2020-2021 financial year
Duty free import of specified goods (Analytical & specialty equipments)
Commercial R&D companies eligible for 10yrs. tax holiday
Other Benefits – Excise duty waiver for 3 yrs., Custom & Excise duty exemption, state subsidy etc.
Financial and other incentives to R&D centre:
Write off of revenue expenditure on R&D
Write off of capital expenditure on R&D in the year the expenditure incurred
Weighted tax deduction of 150% to the sponsor of sponsored research programs in universities, IIT's and approved national laboratories.
Exemption from customs duty on imports made by industry for R&D projects.
Excise duty exemption to duty exemption for 3 years on goods designed and developed by a wholly owned Indian company and patented in any two countries out of India , USA, Japan and any one country of European Union
APPROVAL BY DSIR
According to the Income Tax Act (Section 35(2AB) a company to be qualify for deduction must have an in-house R&D centre duly approved by DSIR (www.dsir.gov.in). DSIR has over the years update specific guidelines that can act as benchmarks for the applicants.
Below you can find some benchmarks examples:
The R&D unit must have identifiable infrastructure, with earmarked area/building/premises and exclusive manpower of its own headed by a full time R&D Head having direct access to the CEO or board of directors.
The facility cannot qualify if it is used exclusively for routine activities such as market research, sales promotion, quality control, testing, commercial production, style changes, routine data collection, or activities of like nature
The company must maintain a separate account for each approved facility that shall be audited annually and a copy thereof shall be furnished to the Secretary of the DSIR by October 31st of each succeeding year
To be recognized by DSIR and to be defined available for R&D Tax Credit, The process is composed by the following steps:
Step1: Submit the application submission online at DSIR website (http://www.dsir.gov.in)
Step 2: The DSIR then calls the applicant for a meeting
Step 3: The DSIR after carefully evaluating the application either rejects or gives you the recognition
Step 4: After recognition, you need to submit DSIR Approval application Form 3CK
Step 5: You will get approval in the form of Form 3CM
Step 6: After approval, claim 150% weighted tax reduction u/s 35(2AB) on the expenses made on R&D
Step 7: After filing your income tax returns, prepare Form 3CL indicating the expenditures made on R&D and send it to DSIR, annually
SOME CHALLENGES:
Today, the weighted tax deduction of 150% on qualifying in-house R&D expenses does not cover the all sectors: there is a need to broad-base the deduction, including even services under it.
Standalone R&D entities are not eligible for the tax incentive. Earlier Section 80IB (8A) provided this benefit. This benefit should be reinstated.
In addition to tax incentives, a stronger intellectual property protection and enforcement regime would also be important to make India an R&D hub.
Discover more about India
Focus 3D Printing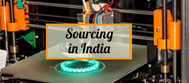 Focus on Electrical Control Panel